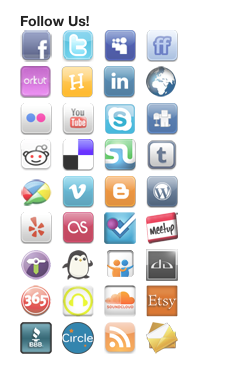 Install & activate the "Social Media Widget" to connect your WordPress site to the social media sites you keep up with. This is a very flexible and comprehensive widget! See the links to the left for examples. (Note: none are active links.)
Once you activate the plug-in, you have the ability to change the size and style of the buttons. Simply go to the "Appearance", "Widgets" menu to the left of your dashboard & drag it from the list of available widgets to the right to activate it.
This plug-in is quite nice & very easy.
The default image link size is 32px (See the list to the right.) but you can also make them 16px or 64px. (See below)
Also note that you can activate as many or as little as you wish so you will never feel obligated to keep up with social media sites you either don't use or phase in or out with your interests.
Below are some more screen shots to give you more of an idea of how differently they can be displayed.
This has been another simple WordPress 101 widget recommendation.